Cell-0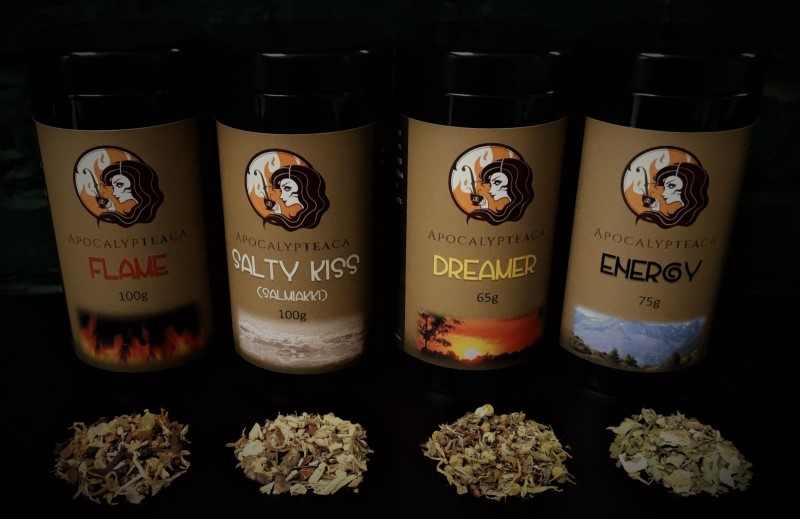 FLAME
A tasty combination of herbs and spices that warms you up and boosts your inner fire. A herbal mix that helps to detox your body and stimulates 'lust for life'.
Ingredients : Cinnamon, chicory (root, herb), ginger, cardamom, black pepper, cloves, liquorice, cocoa shells, tulsi, marygold

SALTY KISS (SALMIAKKI)
This herbal infusion, with a strong salty liquorice taste, has to be made in cold water and should be consumed ice cold. A very tasteful digestive.
Don't drink when you have high blood pressure
Ingredients : Liquorice, anise seed, fennel seed, cocoa shells, stevia leave, himalayan salt

DREAMER
A tasteful evening tea that helps you to calm down, reflect and sleep well. This herbal mix also boosts your general resistance and supports digestion.
Ingredients : Chamomile, lime blossom, tulsi, lemon Verbena, marygold, valerian Root

DREAMER – Refill

ENERGY
A sweet, pure, natural & powerful drink, containing coffeine which stimulates concentration, alertness and good feeling.
Can be drunk hot or cold.
Ingredients : Mate, moringa, stevia leave, cocoa shells, orange peel

4-Pack of: FLAME – SALTY KISS – DREAMER – ENERGY
Order all 4 blends in black metal tin cans for the reduced price of 60€