Kuksa
Check out the promo video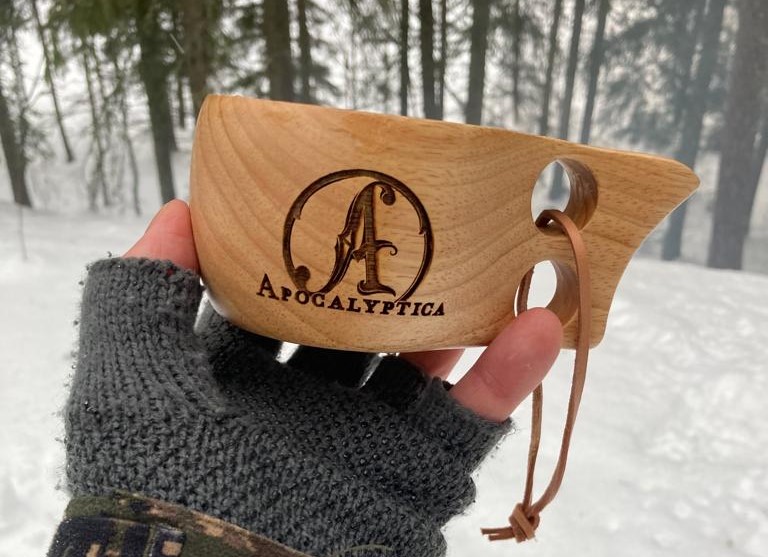 Do you know this traditional Finnish 'Kuksa' that Paavo is holding while enjoying his warming tea ? It's a handcarved cup from birch burl wood, made following the ancient tradition of the indigenous Sámi People of Lapland.
This woorden cup has almost a sacred status among traditional hikers, bushcrafters and so on. The original Sami lifestyle, dominated by hunting, fishing and trading, was based on the utilization of natural resources.
Kuksa holds hot and cold drinks, and can be used to collect berries.



Kuksa Instructions
Like any natural wood product, if you treat your Kuksa right, it'll serve you well on many adventures. Here's how to keep your Kuksa cup serving up those tasty cups of campfire drinks :

Before first use, oil your Kuksa with food-grade oil and fill it with oil to the top. You want this beautiful piece to last for years, so that means keeping it clean. The oil will help prevent it from absorbing too much liquid and give it a gorgeous shine. Now and then, feel free to polish it up with some more beeswax, inside and out, just for some extra lovin', this will prevent cracking or splitting. Always use Food-Grade Oil.

No extreme temperatures: give your boiling liquids a few minutes to cool down before pouring them into your Kuksa. Also, avoid microwaves and dishwashers.

Traditionally, a Kuksa is only rinsed with clean water and dried with a cloth after use. No detergents are used because they will damage your Kuksa.


Now simply sit back and enjoy your Kuksa cup with coffee or tea. Cheers!




Price Kuksa : 45€ (with engraved Apocalyptica logo)


If you wish to order or have a question regarding this kuksa, please send an email to info@apocalypteaca.com or fill in this Contact form