Classic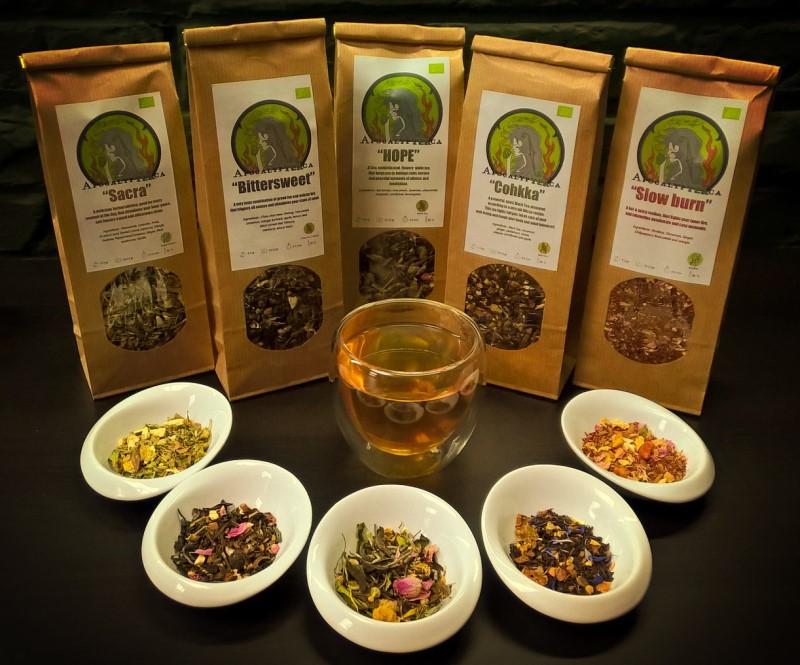 COHKKA
A powerful, spicy Black Tea, prepared according to a very old Wicca recipe. This tea fights fatigue, takes care of your well-being and keeps your body and mind balanced.
Ingredients : Black Tea, cinnamon, ginger, cardamom, cloves, pepper, cornflower and apple.

BITTERSWEET
A very tasty combination of green and oolong tea, that triggers all senses and stimulates your state of mind.
Ingredients : China Chun Mee, Oolong, rose petals, cinnamon, orange, tumeric, apple, lemon zest, black current leaf, hibiscus, cranberry and ariona berry.

HOPE
A fine and sophisticated, flowery white tea, that helps you to indulge calm, secure and peaceful moments of silence and meditation.
Ingredients : Bai Mudan, rose petals, lavender, chamomile, marigold, cornflower and lemongrass

SLOW BURN
A hot & spicy rooibos, that lights your inner fire and intensifies passionate and cosy moments.
Ingredients : Rooibos, cinnamon, ginger, chilipeppers, rose petals and orange.

SACRA
A delicious herbal infusion, good for every moment of the day, that stimulates your inner peace and favours a good and efficacious sleep.
Ingredients : Chamomile, lavender, anise, St John's wort, fennel, cocoa, liquorice, orange, verbena, peppermint, cinnamon, ginger, black cardamom and vanilla.

5-pack of: COHKKA – BITTERSWEET – HOPE – SLOW BURN – SACRA
Order a large or small 5-pack at a reduced price
Large (450g) : 4 x 100g + 50g – 52€
Small (230g) : 4 x 50g + 30g – 30€