Classic

COHKKA
A powerful, spicy Black Tea, prepared according to a very old Wicca recipe. This tea fights fatigue, takes care of your well-being and keeps your body and mind balanced.
Ingredients : Black Tea, cinnamon, ginger, cardamom, cloves, pepper, cornflower and apple.

BITTERSWEET
A very tasty combination of green and oolong tea, that triggers all senses and stimulates your state of mind.
Ingredients : China Chun Mee, Oolong, rose petals, cinnamon, orange, tumeric, apple, lemon zest, black current leaf, hibiscus, cranberry and ariona berry.

HOPE
A fine and sophisticated, flowery white tea, that helps you to indulge calm, secure and peaceful moments of silence and meditation.
Ingredients : Bai Mudan, rose petals, lavender, chamomile, marigold, cornflower and lemongrass

SLOW BURN
A hot & spicy rooibos, that lights your inner fire and intensifies passionate and cosy moments.
Ingredients : Rooibos, cinnamon, ginger, chilipeppers, rose petals and orange.

SACRA
A delicious herbal infusion, good for every moment of the day, that stimulates your inner peace and favours a good and efficacious sleep.
Ingredients : Chamomile, lavender, anise, St John's wort, fennel, cocoa, liquorice, orange, verbena, peppermint, cinnamon, ginger, black cardamom and vanilla.

5-pack of: COHKKA – BITTERSWEET – HOPE – SLOW BURN – SACRA
Order a large or small 5-pack at a reduced price
Large (450g) : 4 x 100g + 50g – 52€
Small (230g) : 4 x 50g + 30g – 30€

Apmb4c

ALLEGRO
A spicy green gunpowder tea with powerful ginger, tempting cinnamon, stimulating tumeric, cool sparemint and a kick ass touch of black pepper

ADAGIO
A sweet, relaxing herbal infusion with seducing honeybush and orange, lovable rose petals, passionate rooibos, soothing lemon verbena and a sexy touch of blue cornflower petals

2-pack of: ALLEGRO and ADAGIO
Order both teas at a reduced price : 2 x 100g – 22€




Cell-0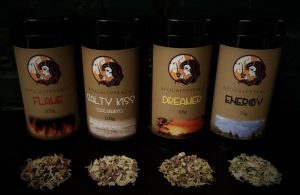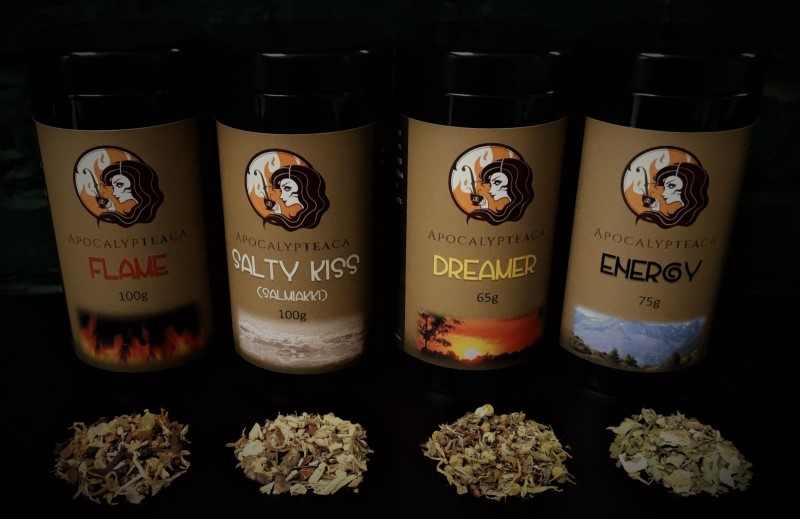 FLAME
A tasty combination of herbs and spices that warms you up and boosts your inner fire. A herbal mix that helps to detox your body and stimulates 'lust for life'.
Ingredients : Chamomile, Lime blossom, Tulsi, Lemon Verbena, Marygold, Valerian Root

SALTY KISS (SALMIAKKI)
This herbal infusion, with a strong salty liquorice taste, has to be made in cold water and should be consumed ice cold. A very tasteful digestive.
Don't drink when you have high blood pressure
Ingredients : Liquorice, anise seed, fennel seed, cocoa shells, stevia leave, himalayan salt

DREAMER
A tasteful evening tea that helps you to calm down, reflect and sleep well. This herbal mix also boosts your general resistance and supports digestion.
Ingredients : Chamomile, Lime blossom, Tulsi, Lemon Verbena, Marygold, Valerian Root

DREAMER – Refill

ENERGY
A sweet, pure, natural & powerful drink, containing coffeine which stimulates concentration, alertness and good feeling.
Can be drunk hot or cold.
Ingredients : mate, moringa, stevia leave, cocoa shells, orange peel

4-Pack of: FLAME – SALTY KISS – DREAMER – ENERGY
Order all 4 blends in black metal tin cans for the reduced price of 60€




These delicious and exclusive blends are sold in favour of the Apocalyptica band, previously for